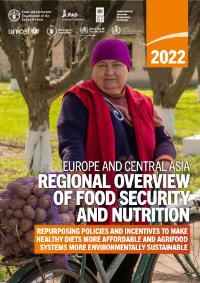 Europe and Central Asia – Regional Overview of Food Security and Nutrition 2022
This report presents the latest updates related to food security and nutrition in Europe and Central Asia, including estimates on the cost and affordability of healthy diets. It also explores how governments are supporting the food and agriculture sector and how to repurpose policies and incentives to make healthy diets more affordable and agrifood systems more environmentally sustainable.
The new estimates confirm that the prevalence of hunger at chronic or severe levels is relatively low in the ECA region, through the prevalence of food insecurity at moderate or severe levels can be quite high. The region is seeing alarmingly high – and rising – rates of overweight and obesity. The COVID-19 pandemic has added 25.5 million people in the region to the ranks of the moderately or severely food insecure, leaving them without access to safe, nutritious and adequate food. The war in Ukraine has made the situation worse. Almost all ECA subregions are experiencing increased costs and reduced affordability of healthy diets because of higher food prices and lower incomes.
This report contains an in-depth analysis of the repurposing of food and agricultural policies to ensure the food systems transformation is better suited to addressing the "triple challenge" of achieving food security and good nutrition for better health, providing livelihoods to farmers and others connected to the sector, and reducing the nature and climate footprint of the sector. This report also reviews complementing policies within and outside of agrifood systems to assess whether repurposing efforts are impactful in the ECA region.
Get translated document versions publication: